We do not provide heat treatment services.
GreenTech Heat designs, manufactures, and sells portable electric and propane heaters, fans, and treatment accessories specifically designed for the efficient killing of all insect pests, especially bed bugs and their eggs. Compare the price of owning our equipment with the total cost of hiring an exterminator. GreenTech Heat equipment can often be less expensive and provide a faster, more thorough treatment.
Click here for a list of service providers.
---
Propane Heaters Kill Bed Bugs, Other Insects, and Their Eggs
Begin killing in less than 15 minutes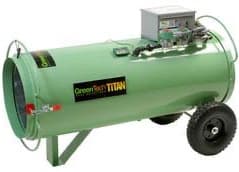 Titan portable direct-fired propane heaters are the most powerful heaters and generate up to 990,000 BTU. In fact, recent independent analysis reports that the GreenTech Heat Solutions Titan 800 is the most powerful portable, propane bedbug heater available. GreenTech Heat offers two propane heat systems: the Titan 450 and Titan 800. Both are made in the USA and both come with our exclusive 2-year repair or replace warranty.
Propane heaters are typically operated outside the treatment area and the energy from the propane heating unit is ducted into the room from outside the building. Because of the amount of energy and heat produced by these heaters, a technician must always be present to monitor the heater and the treatment area. Propane systems require a propane tank and hoses.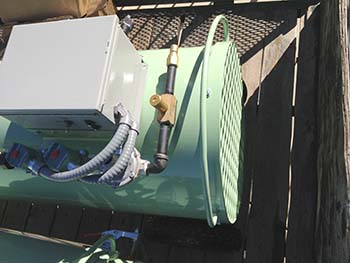 Propane units achieve lethal thermal temperature faster than electric units and will take less time to perform a treatment. Bed bug heat treatments with propane heaters often reduce the ability for bed bugs and other insects to migrate out of the heating zone during the treatment. Direct fired gas heaters are effective for treatment of all insects and are efficacious for all life cycle stages including eggs. The Titan heaters also raise interior and exterior wall temperatures to lethal levels for wood-destroying pests like termites and powder post beetles.

| | | |
| --- | --- | --- |
| | Titan 450 | Titan 800 |
| output | 513,000+ BTU | 990,000+ BTU |
| 8-hour treatment area | more than 2,000 sqft | more than 3,000 sqft |
| power | 7A 120V | 7A 120V |
| air flow | up to 4,000 cfm | more than 5,000 cfm |
| propane tank | 5 or 10 gal or larger | 25 gal and larger |
| dimensions | 43"L x 23"W x 29"H | 50"L x 27"W x 30"H |
| weight | 100 lbs | 140 lbs |
| fuel use | ~1.4 gal/hr | 2-4 gal/hr |
We designed the Titan propane bed bug heaters for safety and operator convenience. Each Titan is easy to maneuver and the handles make loading and unloading easy. The longer barrel of the Titan 800 increases air pressure and makes treatments safer. The solid tires make transportation around a job site nearly effortless.
Both Titan heaters are portable and can be transported and stored upright to save space. All GreenTech Heat heaters come with a 2-year repair or replace warranty.
Because of the convected energies created by the GreenTech Heat Titan heaters, we do not recommend residents re-enter the property until temperatures have cooled to 85°F.
What people say about GreenTech Heat Equipment
Local, regional, and nationally-recognized pest control companies concur that GreenTech Heat equipment and training make the difference when treating for bed bugs. Visit our testimonials page for more comments about our training and technology.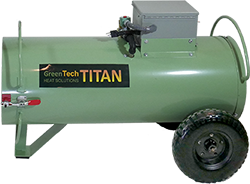 The industry-exclusive Titan 450 uses patent-pending heat ducting technology to produce 513,000+ BTU, and can treat more than 2,000 square feet in an 8-hour day. This propane bed bug heater weighs around 100 pounds and is easily transported up stairs and fits in a small truck or SUV: it's only 43 inches long. The Titan 450 is easily set up by one person and may be used in a hallway with 5 or 10 gallon propane tanks. The integrated fan on the Titan 450 moves up to 4,000 cfm.
The light-weight, easy-to-handle Titan 450 is designed specifically for pest control heat treatments. The small footprint allows it to operate on balconies and patios. The heater is easily maneuverable up stairways. Perfect for apartments! Click here for more information on the Titan 450 portable propane bed bug heater.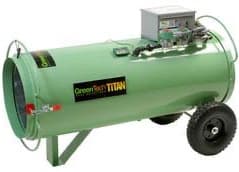 No job is too large or too small for the Titan 800! The Titan 800 produces more than 990,000+ BTU, and treats more than 3,000 square feet in 8 hours. This propane bed bug heater is 140 pounds. Perfect for single-family homes and multi-unit housing, the Titan 800 is easily set up by one person and may be used with 25 gallon propane tanks. The integrated 18" fan on the Titan 800 moves more than 5,000 cfm — more than any other propane bed bug heater on the market.
The Titan 800 is typically operated outside the structure and ducts the heated air into the building. The Titan 800 utilizes 25 gallon propane tanks. A 25 gal/100 lb tank will typically supply enough propane for the entire treatment with a Titan 800.
The Titan 800 treats up to 3,000 sqft in 8 hours. Treatments are safe for chemically-sensitive customers and flush fresh air into and throughout the structure. This technology may eliminate micro-organisms in the treatment area. The Titan 800 produces more than 5,000 cfm of air flow. The heater's longer barrel increases air pressure and can drive air up three or four stories, making multi-story treatments easy. The Titan 800 safely heats and treats from outside the structure and produces only 11 ppm of carbon monoxide.
All GreenTech Heat propane heaters come with a 2-year repair or replace warranty. Propane heat packages do not include the propane tank. Each of our propane heat packages comes standard with the Bed Bug Heat Treatment Field Guide and our exclusive Master Heat Technician Certification, and include fans, all propane hoses, and regulators. Click here for more information on the Titan 800 portable propane bed bug heater.