Electric and Propane Heaters Kill Bed Bugs and Other Insects and Their Eggs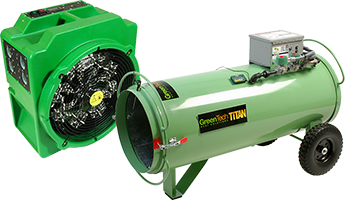 In 1989, Dr Mike Linford, the founder of GreenTech Heat, was first to market heat as the environmentally-friendly option for killing insects with commercial bed bug heat equipment. Since then, we have created the best heaters, provided the best training, and continued to develop the best heat technology. When properly applied, our heat technology will kill all insect pests and their eggs and can kill bacteria, mold, allergens, and viruses.
GreenTech Heat offers both ePro electric bed bug heaters and Titan propane heaters. Click here to learn more about our line of Titan propane heaters.
All ePro electric bed but heaters are
Discreet
Lightweight yet powerful
Easy to transport and set up
Integrated thermostat
Safe and efficient
Multiple heat elements that can be individually energized
Comes with the appropriate number of power cords
Power options from 50A/110V to 64A/240V
Viewing on a mobile phone?
Rotate your device to view the entire chart.
GreenTech Heat Electric Heaters


ePro 400

ePro 400 hotel+

ePro 600

ePro 1400
heat produced
19,659 BTU
19,659 BTU
26,212 BTU
52,377 BTU
8-hour treatment area
400 sqft
400 sqft
600 sqft
1400 sqft
power requirements
50A 110V
PTAC & 15A 110V
66A 110V
64A 240V
includes cords
yes
yes
yes
yes
integrated thermostat
yes
yes
yes
yes
air flow
3500 cfm
3500 cfm
3500 cfm
3500 cfm
dimensions
23" x 20" x 13"
23" x 20" x 13"
23" x 20" x 13"
23" x 20" x 13"
weight
38 lbs
40 lbs
39 lbs
48 lbs
warranty
2 years
2 years
2 years
2 years
heater price
$1,599.00
$1,799.00
$1,999.00
$2,549.00
Click to Purchase Heater
Click to Purchase Heater
Click to Purchase Heater
Click to Purchase Heater
package price
$1,949.00
$2,049.00
$2,249.00
as low as $120/month-24 months AOC
$3,795.00
as low as $180/month-24 months AOC
Click to Purchase Package
Click to Purchase Package
Click to Purchase Package
Click to Purchase Package
What People Say
Your competitor's propane heater is a little bit cheaper but not as powerful. We've sent it back to them for a bad burner ring, which cost us over $2 grand of damage to a home. It's been a constant thorn in our side. It just sits in the shop now. Nothing but GreenTech going forward. We love our Titans and ePros. U guys are awesome!
Darren
Rocky Mountain Bed Bug
---
The ePro electric bed but heaters are the ideal choice for heat treatments of bed bugs for hotel rooms, small apartments, dorm rooms, senior housing, and other similar types of closed system projects. GreenTech ePro electric bed but heaters feature an integrated thermostat and do not require a technician be present during the heat treatment— start the treatment first thing in the morning and return at the end of the day to find all the bed bugs and their eggs are dead!
Unlike chemicals, heat kills eggs and all stages of insect development, with no potential side effects to your customers. Heat is the solution to pest control in many markets, making one-day, single-treatments a reality.
All GreenTech Heat electric heaters have thermal regulator switches and can be set up in a treatment area and left to operate without constant supervision. We have designed these heaters to operate without requiring a generator. Each heater comes standard with the appropriate number of power cords.

All GreenTech Heat heaters come with a 2-year repair or replace warranty. All GreenTech Heat electric heaters and fans are ETL listed.
Because of the convected energies created by the GreenTech Heat ePro electric bed but heaters, we do not recommend residents re-enter the property until temperatures have cooled to 85°F.
---
Learn more with our recent blog articles
---
Price of Equipment vs Cost of Treatment
GreenTech Heat
Pesticides
Treatment duration
1 Day
Weeks to Months
Kill all bedbugs in a single treatment?
Yes
No
Repeat visits?
Not needed
Required
Toxic chemcials
No
Yes
100% safe to humans and pets?
Yes
No
Antibacterial
Yes
No
Reduces allergens?
Yes
No
Denatures dust mites?
Yes
No
Kills insect eggs?
Yes
No
GreenTech Heat Solution's state-of-the-art technology allows you to achieve a proven thermal kill for bed bugs. Our state-tested technology creates heat convection currents which transfer energy throughout the room. Heated air molecules transfer their energy into every surface of the room, allowing all the contents of the room to reach a minimum of 140°F. Developed and perfected by Michael R. Linford PhD, our equipment is designed to be a complete bed bug heat treatment system without sacrificing safety, quality, or capability. We understand that equipment alone will not achieve a 100% kill of your infestation. That's why we include our Flash video training with every package and many of our packages include our Master Heat Technician Certification training program.
Most people consider only the monetary component of a treatment's cost. Inconvenience, toxicity, and length of treatment should all be considered when calculating a total cost. While a pesticidal treatment may be less expensive, the bed bugs will remain with you for several weeks to a month or more. The table above will help you identify some of the hidden costs of pesticidal treatments as compared with treating with GreenTech Heat equipment.
For more information on how to protect your family, your residents, your property, or your good reputation, call us at 855-GTH-BUGS (855-484-2847) ext 2 or visit our online store to order today.
Getting started with heat is easy!