Client test shows ePro 1400 has 3x the power of the competition's 240V heater
by Tommy Underhill
October 12, 2021
The team at GreenTech Heat tends to conservatively compare our equipment with the competition's products. We base our comparisons on the raw statistics like airflow and heat output.
A new client of ours has used the competition's trailer and generator heat system for a couple of years. As we discussed our bed bug heat equipment with their technical staff, we confidently told them one of our ePro 1400s was equivalent to two of their current heaters which are 240V heaters each weighing 130 pounds. Each produces 24,880 BTU delivered via omnidirectional airflow at 2,400 CFM. These heaters are 3-phase and require thick and heavy power cables. Our new client's previous electric bed bug system cost more than $100,000 and produces just shy of 200,000 BTU with eight 130-pound heaters— this allows their 1,040 pounds of heaters to treat up to 3,200 square feet.
GreenTech Heat's thermal eradication technology utilizes high-velocity air .
Airflow is important
Let's discuss airflow for a moment.
A heater's raw airflow is typically described in CFM: cubic feet per minute. In this regard, the larger number is better: 3,500 CFM is almost 50% better than 2,400 CFM.
In a convected bed bug heat treatment, the type of airflow matters even more! Our competitor's omnidirectional heater blows air vertically down the height of the heater and disburses it equally in all directions from the base of the heater.
---
GreenTech Heat vs the competition
Many of our ads, emails, and product descriptions mention our heaters' weight as an asset. It's a big deal in the automotive world, and is just as important in pest control and killing bed bugs.
This same company's bed bug heat package designed to treat a 600 square foot room requires 260 pounds of heaters and 5 fans. We treat the same room with one 39-pound heater and a single fan. Total weight of our bed bug heater, fan, and all power cables is equivalent to just one of their heaters.
Get the best power-to-weight ratio in the industry!
GreenTech Heat Solutions has the best power-to-weight ratio available anywhere in the pest control industry. Our GreenTech Titan 800 propane bed bug heater weighs 140 pounds and produces more than 990,000 BTU. A single Titan 800 generates enough heat to successfully treat more than a 4,000 square-foot structure in a day. It's about the same size as one of the competition's electric heaters and can output energized treatment air with enough air-flow-force to treat the rooms on the third floor... while the direct-fired bed bug heater remains firmly planted on the ground outside the building. Technicians utilize lightweight mylar ducts to move the heated air throughout the jobsite. When needed, additional airflow is accomplished with our high-temperature AM4000 air mover fans.
We also offer the slightly-smaller propane-fired Titan 450. About 100 pounds, this little powerhouse still produces more than 550,000 BTU and generates enough heat to treat more than a 2,000 square-foot structure. The Titan 450 has three significant advantages over the larger Titan 800: it fits in a small SUV or truck, it can be safely operated in a hallway, and it can run from a 5-gallon propane tank.
Both the Titan 450 and Titan 800 are made in America and come with a two-year warranty.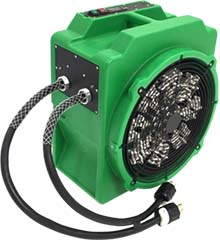 On the electric side, the ePro 1400 bed bug eradication heater produces 52,377 BTUs and weighs less than 50 pounds. Weighing in at less than half the competition, this heater can be run from electric stove and electric dryer outlets or powered by a portable generator. It has two 240V power cords, one for each heating element, which simplifies electrical needs and reduces set up times. The ePro 1400 electric heater will increase ambient temperatures to lethal levels within two hours. This heater heats like propane but has the lightweight portability of electric. Compared with our competition, we have the lead with the all-important power-to-weight ratio: apples-to-apples and pound-for-pound, our ePro 1400 produces almost six times the heat without straining your back.
GreenTech vs the Competition


Competition

ePro 1400

Titan 450

Titan 800
8-hour treatment area
300 sqft
1,400 sqft
more than
2,000 sqft
more than
4,000 sqft
heat produced
24,880 BTU
52,377 BTU
550,000 BTU
990,000 BTU
air flow
2,400 cfm
3,500 cfm
4,000 cfm
5,000 cfm
weight
130 lbs
48 lbs
100 lbs
140 lbs
power/weight
191.38
BTU/pound
1,068.92
BTU/pound
5,000.00
BTU/pound
7,071.43
BTU/pound
The GreenTech Heat thermal eradication process utilizes high-energy, high-pressure, convected air to kill insects. The competition's heaters do not generate an aggressively-convected airstream to impart lethal heat into treatment areas. Convection allows GreenTech Heat equipment to address larger treatment areas or shorter treatment times.
GreenTech Heat bed bug heaters are more effective
More heat. Greater airflow. Added lightness. No matter how you measure it, GreenTech Heat bed bug heaters are the best in the industry.
For pest control operators, property management, university dorms, housing authorities, senior housing, restaurants, airlines, and apartment owners, GreenTech Heat technology is 100% effective for bed bugs, cockroaches, and all other insects. Heat is an effective tool to drive market share, increase profits, and improve customer satisfaction. Our certified training lets you do it right and do it safely the first time, reducing call-backs. Heat safely kills insects and microbes everywhere they may be found in a single one-day treatment. Call us at 888-699-3944. We have bed bug heaters for sale so you can get started with heat today.
---
We do not provide heat treatment services.
GreenTech Heat designs, manufactures, and sells portable electric and propane heaters, fans, and treatment accessories specifically designed for the efficient killing of all insect pests, especially bed bugs and their eggs. In some cases, owning our equipment has a lower total cost and greater timeliness than utilizing an outside service.
Click here for a list of service providers.
---