We do not provide heat treatment services.
GreenTech Heat designs, manufactures, and sells portable electric and propane heaters, fans, and treatment accessories specifically designed for the efficient killing of all insect pests, especially bed bugs and their eggs. Compare the price of owning our equipment with the total cost of hiring an exterminator. GreenTech Heat equipment can often be less expensive and provide a faster, more thorough treatment.
Click here for a list of service providers.
---
Termite Heat Treatment Systems
Pesticide and fumigant based indoor termite control methods raise concern over the safety of occupants. Our affordable termite thermal remediation systems offer you the ability to perform termite fumigation work without relying on toxic residual chemicals or fumigants. Heat is most effective on structures with drywood termite infestations and works in a similar manner to fumigants to kill every type of termite and their eggs.
Thermal Kill Point for Termites
Achieve a proven thermal kill for termites with GreenTech Heat Solution's state-of-the-art technology. Our state-tested technology creates heat convection currents which transfer air throughout the room, forcing heated air molecules to transfer their energy into every surface of the room. Developed and perfected by Michael R. Linford PhD, our equipment is designed to be a complete termite heat treatment system without sacrificing quality or capability.
Effectively Eliminate Pesticides
Heat is the only truly organic termite control treatment method. Other companies would have you believe that their pesticides are organic or come from natural sources, but every applied pesticide carries with it some level of toxicity. Heat treatments are completely non-toxic and leave no chemical residue, eliminating your exposure over potential client health concerns.
GreenTech Titan DF - A Termite Colony's Worst Nightmare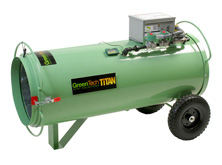 Direct fired gas heaters are effective for treatment of insects, raising interior and exterior wall temperatures to lethal levels for wood destroying pests like termites. The Titan 800 portable direct-fired propane heaters are the most powerful heaters for GreenTech Heat treatments. They are perfect for whole-structure termite heat treatments and can be transported fairly easily around the jobsite. The fans in the heaters are powered by 120 volts at 7.5 amps and the heat is generated by propane or natural gas. Heat levels are set using a Rego valve and digital thermometer. The unit moves 5,000 CFM at 800,000 BTU when fully open. Direct-fired gas units are placed outside the structure and ducted inside.
Choose GreenTech Heat systems for 100% results, 100% satisfaction.