We do not provide heat treatment services.
GreenTech Heat designs, manufactures, and sells portable electric and propane heaters, fans, and treatment accessories specifically designed for the efficient killing of all insect pests, especially bed bugs and their eggs. Compare the price of owning our equipment with the total cost of hiring an exterminator. GreenTech Heat equipment can often be less expensive and provide a faster, more thorough treatment.
Click here for a list of service providers.
---
"Help! I have bed bugs!"
This is a statement we hear too often. From the 2018 Bugs Without Borders survey conducted by the National Pest Management Association:
Almost all (97 percent) pest professionals have treated bed bugs in the past year. A majority of them say that overall bed bug service work (69 percent) and the prevalence of these pests (66 percent) are increasing.
Bed bugs may be easily confused with other pests, as 84 percent of pest control professionals were initially contacted about a different type of pest before identifying them as bed bugs. The majority of these contacts (71 percent) were about fleas, followed by cockroaches (28 percent).
More than half of pest control professionals noted that they receive the most bed bug complaints during the summer, as increased travel during this time of the year may help spread bed bugs from vacation destinations to homes or even college lodgings to homes as students go on summer break.
The top three places where pest professionals report finding bed bugs are single-family homes (91 percent), apartments/condominiums (89 percent), and hotels/motels (68 percent). Past surveys have shown these environments to consistently be the top three where bed bugs have been encountered.
Bed bugs are also found seemingly everywhere else and in higher numbers, such as nursing homes (59 percent), schools and daycare centers (47 percent), offices (46 percent), college dorms (45 percent), hospitals (36 percent) and public transportation (19 percent).
Bites are the most commonly reported sign of an infestation (92 percent) and more than half of people reach out for treatment after discovering bites and welts on their bodies. Although some people immediately develop a skin reaction to bites, others may take two to three days before showing obvious symptoms or any symptoms at all, meaning that people could be unaware of a bed bug problem until a full-blown infestation has taken root.
Typically found in couches and bed frames, bed bugs can also be found in some of the most unexpected places, including stuffed animals, wheelchairs, airplanes, school buses, purses, and even inside bedside lamps, computers, and digital clocks.

While there are numerous steps you can take to get rid of bed bugs, the only two that make any sense to follow are vigilance and heat treatment following discovery of an infestation. Many bed bug removal companies and bed bug removal promise quick and easy treatments, but only heat can kill every insect pest in your home in one treatment with no toxic chemicals required. Heat is the fastest way to get rid of bed bugs.
Read on to discover how self-treating with heat may be the most cost-effective and responsive form of bed bug extermination treatment you can get.
Heat treatments naturally kill bed bugs
Begin killing bedbugs in less than 15 minutes
Pesticide-based indoor bed bug control methods raise concern over the safety of occupants. Our portable and affordable heat treatment systems offer you the ability to perform bed bug control work without relying on toxic chemical residues. Heat can be used to kill every type of bed bug and their eggs throughout the structure, even in places pesticidal fumigants, sprays, or dusts cannot reach. Insects have developed resistance to many pesticides, but cannot become heat resistant at the temperatures and durations we prescribe. Additionally heat can kill bacteria and viruses. A recent independent analysis reports that the GreenTech Heat Titan 800 is the most powerful portable, propane bedbug heater available.
This series of four photographs show how a bed bug's abdomen swells while taking a blood meal from a human host.
Price of Equipment vs Cost of Treatment
GreenTech Heat
Pesticides
Treatment duration
1 Day
Weeks to Months
Kill all bedbugs in a single treatment?
Yes
No
Repeat visits?
Not needed
Required
Toxic chemcials
No
Yes
100% safe to humans and pets?
Yes
No
Antibacterial
Yes
No
Reduces allergens?
Yes
No
Denatures dust mites?
Yes
No
Kills insect eggs?
Yes
No
GreenTech Heat Solution's state-of-the-art technology allows you to achieve a proven thermal kill for bed bugs. Our laboratory-tested and EPA-approved technology creates heat convection currents which transfer energy throughout the room. Heated air molecules transfer their energy into every surface of the room, allowing all the contents of the room to reach a minimum of 140°F. Developed and perfected by Michael R. Linford PhD, our equipment is designed to be a complete bed bug heat treatment system without sacrificing safety, quality, or capability. We understand that equipment alone will not achieve a 100% kill of your infestation.
That's why we include our Flash video training with every package and many of our packages include our Master Heat Technician Certification training program.
Every electric heat package includes free shipping to the Contiguous US and Canada.
Most people consider only the monetary component of a treatment's cost. Inconvenience, collateral toxicity, and length of treatment should all be considered when calculating a total cost. While a pesticidal treatment may initially appear less expensive, the bed bugs will remain with you for several weeks to a month or more. The table above will help you identify some of the hidden considerations and costs of pesticidal treatments as compared with treating with GreenTech Heat equipment.
For more information on how to protect your family, your residents, your property, or your good reputation, call us at 855-GTH-BUGS (855-484-2847) or visit our online store to order today.
Failure to achieve a 100% kill is a guaranteed reinfestation. A single bed bug can become a large infestation if left untreated. One pregnant bed bug can turn into 20 bed bugs after 6 weeks. Those 20 bed bugs will become 100 bed bugs in 12 weeks; the 100 bed bugs will become 425 bed bugs in 16 weeks, and finally, those 425 bed bugs will become an infestation of over 13,000 in just 6 months! Not only do bed bugs multiply rapidly, but they can also live for 8 months or more without food.
Effectively eliminate pesticides
Heat is the only truly organic and 100% natural control treatment method to eradicate 100% of bed bugs and other pests in one treatment. Other companies would have you believe that their pesticides are organic or come from natural sources, but every applied pesticide carries with it some level of toxicity or irritation to mammals. Heat treatments are completely non-toxic and leave no chemical residue, eliminating your exposure over potential client health concerns.
Choose GreenTech Heat systems for 100% results, 100% satisfaction.
---

Propane vs. Electric - Choosing the right bed bug heater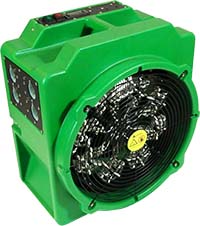 ePro Electric Packages
The ePro 400 portable electric bed bug heater can treat up to 400 sqft in one 8-hour day. The ePro 600 portable electric bed bug heater can treat up to 600 sqft in one 8-hour day. Electric heat treatment packages with the ePro electric heater require up to 66 amps to operate a full power and run on 120v power. There's no need for a generator system with GreenTech ePro heaters. Each ePro combines a 3500 cfm fan with up to 8 heating elements in one powerful unit. The electric system is a "closed" system which recycles the heated air inside the structure. A technician does not always need to be present with electric units. You can set up your treatment area, close the door, and check on the treatment at a later time.
View Electric Heater Packages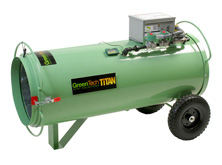 Titan Propane Packages
Our portable Titan propane heater can treat up to 3000sqft in one 8-hour day. Propane heat treatment packages will need to have access to outdoors to stage propane heating unit. The heat from the propane heating unit is "ducted" into the room from outside the building. Propane units are faster to achieve the thermal temperature than electric units and will take less time to perform a treatment. A technician must always be present to monitor the heater and the treatment. The Titan propane is highly efficient and penetrates the structure very well, cutting down treatment times. Propane systems will require a propane tank and hoses. A typical 25 gal/100 lb tank will supply enough propane for the entire treatment.
View Propane Heater Packages
For a full discussion of bed bugs, their life cycle, bed bug detection and control, visit our bed bug page.
---
Basic Guidelines for Bed Bug Heat Treatments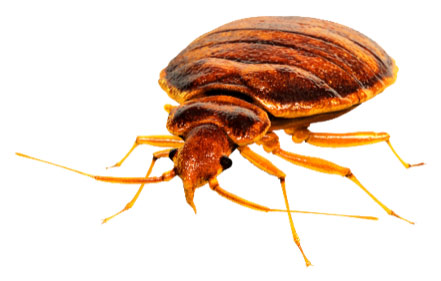 Every Living Organism has a Thermal Death Point
The full details of heat treatments are provided in our Heat Treatment Field Guide. This is a basic approach to performing a heat treatment. The same process for treating bed bugs will also kill, and in some cases, completely eradicate other organisms. Regardless of the heat source, lethal temperatures and treatment exposure times must be achieved throughout the structure as measured at the hardest-to-heat location to achieve a 100% kill of your target organism.
Technology Overview
Electric vs Propane
Heat systems affecting heat treatment run times and methodology.
Electric bed bug heaters utilize a closed system. It operates from within the structure being treated with heat. Electric heat is slower in the beginning of the heating process than propane. With ePro electric heat systems, starting room temperatures raise by approximately 10°F in the inital hour. However, the ambient room air temperature will increase at an increasing rate as the room temperature rises and recycles itself through the electric heater. It is the multiplying effect of air recirculation within a closed system. Electric heat requires power sources. Adding more electric heaters will be more productive to your heat treatments. However, the power source may become a growing challenge. Each ePro electric heater is 120v and requires between 50 and 66 amps to run at 100% power. GreenTech portable Power Stations are used to plug into 240v power sources like an electric range or A/C outlet and can provide more 120v power to the ePro heaters. Check your available amperes.
Propane bed bug heaters operate in an open system. The portable heating unit stays outside the structure and the heat is ducted into the building. It produces positive air pressure. The units require a source of propane to operate. Unlike electrical heaters, Titan propane heaters create an intense and immediate heating of the treatment area. Higher air output, higher volume of heated air, high productivity capabilities as compared to electric systems. Propane can be divided with splitting the heat ducting to cover more area, rooms, or even another unit. Propane treatments result in more thorough penetration and distribution of the heated air. Propane heaters tend to have faster treatment times or larger treatment areas.
| | | |
| --- | --- | --- |
| | ePro 400 | Titan 450 |
| Power source | Electricity | Propane |
| Treatment area | 400sqft | 400sqft |
| Starting temperature | 75°F | 75°F |
| Infestation | moderate | moderate |
| Target temperature | 130°F+ | 150°F+ |
| Estimated treatment time | 8-12 hours | 2-4 hours |
At first glance, it can appear there is a lot to understand about heat treatments! We've been developing and refining thermal pest control technology since the late 1980s and offer training and support unparalleled in the industry. Your success is our success. Please call our sales line at 855-GTH-BUGS (855-484-2847) for answers to any of your questions. We offer best-in-industry, 24/7 tech support to our clients and free shipping on all electric heat packages. All our fans and heaters come with a 2-year warranty.
Variables do Apply
There are a few parameters to consider when estimating a treatment time. These potentialities are all addressed in our Master Heat Technician Certification training.
Treatment area affects treatment times. The larger the area the longer heating time for all areas to reach lethal temperatures. The more nooks and crannies, the greater the compartmentalization and longer the treatment times.
Building materials such as cement, brick, wood, steel, dry wall, etc., will affect the heating times. Cement floors and walls will take as much as three times longer because cement acts as a heat sink and will maintain cool temperatures longer, thus requiring more heating time.
Furnishings affect airflow and heating times. Lots of furniture will require more run time due to the volume of material needing to get to temperature. Furniture is also an obstacle for the heated air to travel through and around.
Clutter can be a detriment to a successful treatment. Piles of clothing and blankets are very important to move around and mix during the treatment. The room air temperatures can be 130°F, while the floor under the pile of clothing could be a cozy and not lethal 80°F. Bed bugs prefer dirty laundry. Clean up the clutter prior to the treatment.
Weather can both positively and negatively affect treatment times. Treating for insects in a desert will require a shorter treatment time than when treating at a high altitude with snow and wind. Humidity and cold will take adjustments and more heat time.
Degree of infestation dictates the degree of both the post-treatment cleanup and the attention needed during treatment setup. Identifying and treating infestations early is key to control and is much easier to get a 100% kill. If the infestation is large and mature — basically way over due for treatment — you will need to take time to move objects, furniture, open all draws and closets, and spend extra time prepping and allowing more time for longer heat penetration of the structure and furnishings.
Ambient temperature defines your treatment's starting point. This can have a similar affect as weather, but applies to interior room temperature. Is the treatment temperature beginning at, for example, 90°F or 40°F? Whenever practical, preheating the treatment area with the building's HVAC can reduce treatment times. Preheating is not required to achieve lethal temperatures, but may decrease the treatment times for electrical treatments. All efforts should be taken to begin heating the structure during set-up of heat treatment equipment. Starting with a pre-heated room achieves faster arrival times for lethal temperature resulting in less treatment time, and higher productivity. A 10°F increase in room temperature prior to treating can eliminate an hour of treatment time.
Every organism has a thermal death point and heat kills lots of pests. The death point data listed is from laboratory tests, not field applications.
A Typical Treatment Plan
A Bedroom with Two Beds or A Basic Hotel Room Set-Up
Using an ePro electric bed bug heater to treat a bedroom with two beds and other furniture — be it a residential bedroom, a dorm, or a hotel or motel room — will benefit from a strong setup and airflow. Get the heater turned on in the room and heating prior to moving furniture and formally beginning the treatment.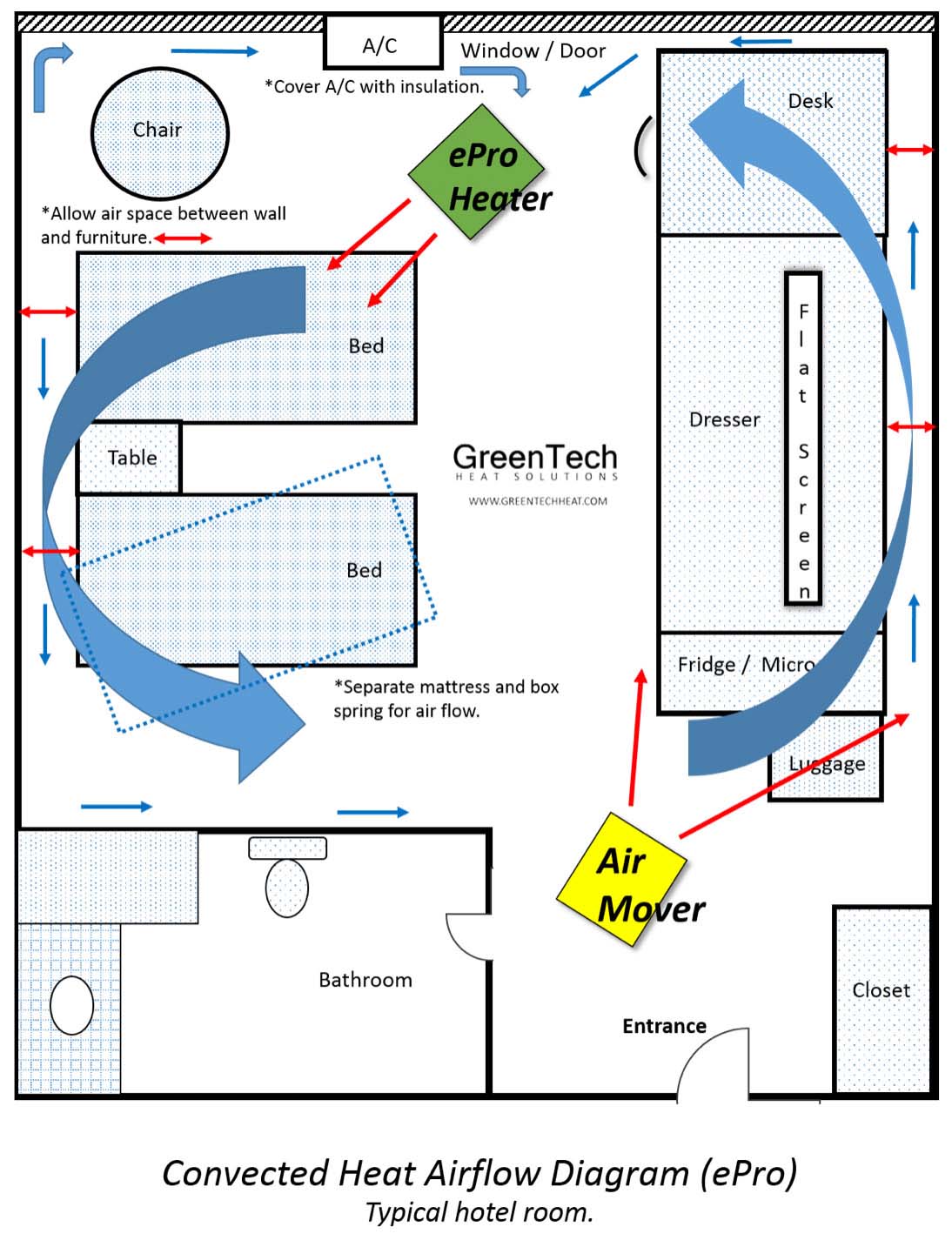 View all Heat Treatment Packages
---